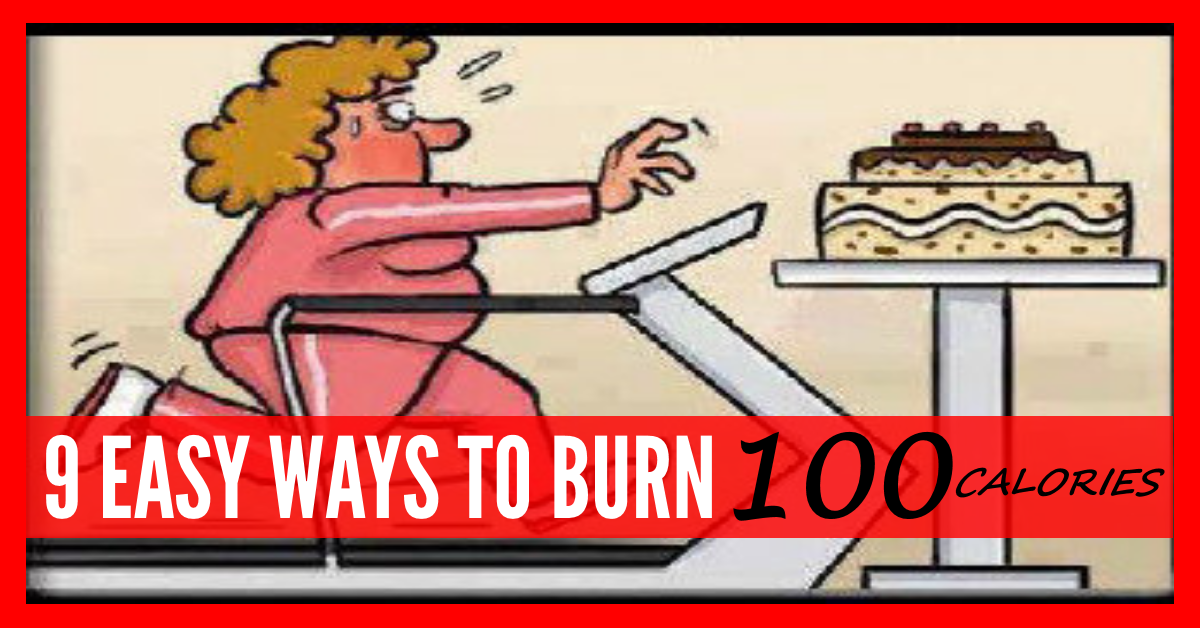 Shedding a few calories doesn't have to be hard work! Today I'm going to share 9 ways to burn 100 calories while smiling and having fun in the process!
#1 Burn: Two-Wheel It
Remember when you were young and rode your bike everywhere you wanted to go? One of the most fun modes of transportation, biking lets you feel the wind and experience the world around you in ways that are impossible when driving a car or sitting on a bus. Hop on your beloved two-wheeler for 15 minutes or more, keep the pedals moving and you'll cut 100 calories from your waistline.
#2 Burn: Grab a Club
Walking an entire 18-hole golf course is a great way to burn a lot of calories. Not interested in hunting down your lost ball in the woods? No problem. A round of miniature golf may not seem intense, but it's enough to get rid of 100 calories. Act goofy the whole time to embarrass your kids and you'll burn even more!
#3 Burn: Climb On
Feeling particularly adventurous or ready to try something new? Slip on some climbing shoes and hit your local climbing wall. And don't worry—you don't have to climb hundreds of feet to drop 100 calories. You'll get rid of that many calories in less than 10 minutes. Just be careful: climbing is a great workout that is highly addictive.
#4 Burn: Stand Tall (and Get Wet)
Want to stay cool while you burn 100 calories? Hop in the boat for an afternoon of water skiing. You'll leave 100 calories in your wake after just 15 minutes of skiing and every minute after gets rid of even more—all while you don't break a sweat.
#5 Burn: Bang the Drum
By far one of the most fun instruments out there to play, the drums can also be physically demanding. Bang around on them vigorously for half an hour and you'll meet your goal of burning 100 calories and leave with a smile.
#6 Burn: Get Soiled
You want to eat better and get fit at the same time. Well, here's the good news: you can do both by planting your own garden. Within the first 25 minutes of digging and planting, 100 calories will go out the window, and when your veggies peek out of the ground, your diet will take a giant step in the right direction.
#7 Burn: Shake Your Booty
Even people who hate dancing in public smile while dancing at home with a loved one. Act like a loony for four pop songs in a row and you can have peace of mind knowing you just shook 100 calories from your shrinking frame. Now that's something to dance about!
#8 Burn: Fly High
Trampolines aren't just for kids. They're for anyone who wants to burn 100 calories in half an hour. Sound too good to be true? Start jumping for joy every day and see if you begin to see changes in your body.
#9 Burn: Head to the Mall
Your friends won't believe you, but the next time you go the mall, tell them you're going so you can burn some calories. Even if you're there for just a little while, keeping up a steady shopping pace for 40 minutes is enough to get rid of 100 calories.
If you want to really expedite your results then consider working with me on a fitness plan that will turn you into a fat burning machine. Call or email today—I look forward to hearing from you!
Do you have diabetes or high blood pressure?
Did you know that by dropping as little as 5 to 10 percent of your body weight these problems can be greatly alleviated?
Just think how great you will feel after losing excess weight and improving your health!
So you ditched that package of high-carb noodles from your pantry, now learn to love nature's healthy noodles: spaghetti squash. If you haven't yet tried spaghetti squash then you're in for a real treat. A pile of tender spaghetti squash strands piled high with protein and veggie meatballs makes the perfect fitness meal.
Servings: 12
Here's what you need…
2 pounds lean, organic, grass-fed ground beef
1 pound lean, sweet turkey sausage
4 celery stalks, diced
1 yellow onion, diced
3 carrots, diced
3 omega-3, eggs
1/2 cup almond meal
2 Tablespoons dried oregano
1 teaspoon garlic powder
dash of salt and pepper
Optional: handful of olives
Sauce
14.5 oz can diced tomatoes
1 can tomato paste
splash of white wine
2 cups fresh basil, chopped
6 garlic cloves, chopped
dash of salt and pepper
Noodles
1 spaghetti squash
Preheat oven to 375 degrees F. Wash spaghetti squash and poke all over with a knife. Place directly on the middle oven rack and bake for 1 hour. Remove from oven and allow to cool. Once cooled, slice in half and remove the seeds. Scoop the spaghetti squash strands out with a large spoon, set aside in a bowl.
Throw all of the meatball ingredients into a large bowl and mix with your hands. Form into large, golf ball sized meatballs.
Combine all of the sauce ingredients into a medium bowl and mix well.
Cook with Crockpot: Place the meatballs in your slow cooker. Cover with the sauce and cook on low for 6-8 hours. OR Cook with stovetop: Place meatballs in a large pot. Cover with sauce and cook, covered, over low heat for 2-3 hours.
Place a scoop of spaghetti squash noodles on each plate, top with meatballs and some sauce and then throw on a few olives.
Nutritional Analysis: One serving equals:  266 calories, 12g fat, 426mg sodium, 14g carbohydrate, 4g fiber, and 26g protein